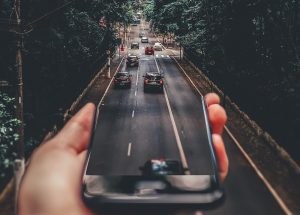 The automotive industry has been one of the hardest hit by the pandemic. Not being able to go outside and working from home, vehicle purchases ceased to be a priority for many, leading to a decline in sales in 2020. A 14.6% recovery in the global light vehicle market is expected in 2021, with projections to return to 2019 levels by 2023*1.
The car of the future is described as EASCY: Electric, autonomous, shared, connected and yearly updated, the five buzzwords in the automotive industry.
Brands are taking advantage of the transformation of the automotive industry and are investing in influencers to promote their new vehicles, especially electric models. One example of this is Volkswagen, collaborating with influencer Chang Yan to test the performance of its electric vehicle.
The 10 keywords of the automotive industry
Electrification
Electric cars are projected to see strong sales in the coming years. Their advantages include lower emissions than gas-powered vehicles, although electricity generation still involves fossil fuels; they have lower maintenance costs and tend to have fewer breakdowns; and they benefit from less intensive and more affordable maintenance.
Autonomy
The focus is on vehicles that can operate without human intervention, even in complex traffic situations.
More than 33 million self-driving vehicles are predicted to be on the road by 2040, and about 55% of small businesses anticipate adopting autonomous driving technologies in their operations over the next two decades*2
Shared mobility
More and more users are shifting towards a model of "using" rather than "owning" a vehicle. There are two forms of shared mobility: carsharing, where vehicles can only be picked up at predefined locations and where the car is owned by a company, and ride-hailing, where customers request personalized trips online, usually via smartphone apps.
Numerous social media profiles are basing their communication on vehicle-related content, from those covering current affairs to those sharing their collection of vehicles. The interest is there and creators are establishing themselves in this area.
Connectivity
There are two types of connectivity. Car2Car communication, where connectivity is maintained between different vehicles in order to share information related to traffic, accidents, road conditions, safety and other issues to ensure the safety of drivers; and Car2X connectivity, which refers to the synchronization between a vehicle and the infrastructure present on the roads (signs, cameras, radars, sensors or traffic lights) to improve road conditions and reduce risks.
Innovation
The implementation of the points above will lead to an increase in the pace of innovation in the automotive industry. As a result, 5 to 8 year model cycles could shift to annual updates in order to integrate the latest hardware and software developments.
Lack of information or even misinformation are two key aspects that hinder the switch to electric vehicles. Producing informative content to post on social networks can help convince potential buyers to take the plunge and secure purchases.
Online Retail
Buying vehicles online is a trend that could be established in the near future, with users buying a car online without having to set foot in a showroom. Forecasts suggest that this could happen by 2030.
As a brand, having a presence on different platforms and adapting to each of them ensures a broader and more effective communication. To that end, creating entertaining and interactive content for Instagram, as well as informative videos on YouTube or conversational content on Twitter, can help you reach the right audiences in the right way.
Cryptocurrencies and Blockchain
Cryptocurrency as a means of paying for vehicles is a reality. Tesla accepting payments in Bitcoin has helped put the spotlight on cars and cryptocurrencies. Although this initiative was temporarily suspended due to environmental concerns two months after its announcement, interest is still very much present and it appears that car sales via Bitcoin will resume if a more sustainable scenario is achieved.
Gaming
Video games are spreading in the automotive industry through new proposals and gamification models, real games or game-like controllers in cars. Brands are seeing the opportunity to "transform" vehicles into real controllers, allowing users to use dashboard screens, steering wheels and pedals to play games inside their vehicles. Prime examples are Tesla with its Beach Buggy Racing 2 or Mercedes Benz with the famous SuperTuxKart game.
Luxury
Porsche, Bugatti and Ferrari are among the top brands with the highest interaction values in the broader industry conversation. Tesla also stands out in both the electric and luxury conversation.
Although the United States has the largest share of the luxury car market, sales are expected to decline. On the other hand, it is expected that sales will increase in Europe and that the Asia-Pacific market will lead the sector due to the presence of numerous large-scale manufacturers in this region.
Social Networks
Tapping into the proactive conversation that users have generated around the automotive industry is crucial, and influencers can be of great help in achieving this. Collaborating with content creators could help communicate new products or services and achieve greater reach, spark conversation around the brand, drive traffic to the site and brand profiles, and reach wider audiences.
*1. GlobalData
*2. Builtin, Statista.