Even the biggest luxury brands can take their game even higher with the correct choice of ambassadors and representatives.
This is such the case of Dior with Kpop singer and BTS member Park Jimin. We might believe that there are brands that "already made it", that do not need more upgrades or changes or are already so positioned that they just follow their own rules, but that's far away from the truth. All brands need to move forward, based on their values and improve what they do by listening to their customers' to meet their needs and desires.
That was the case of the luxury fashion brand DIOR, which was selected in 2022 as the second most popular luxury brand in the world by Luxe Digital Magazine, when it announced on January 16th that BTS member Jimin is their ambassador and he would be attending the Paris Fashion Week.
In less than a week Dior became the biggest winner in the market, and we can see it both socially and financially.
On the socially-digital topic, we just need to check the announcement posts by Dior's social media: they became the highest liked in the history of the brand's account on Twitter and Instagram.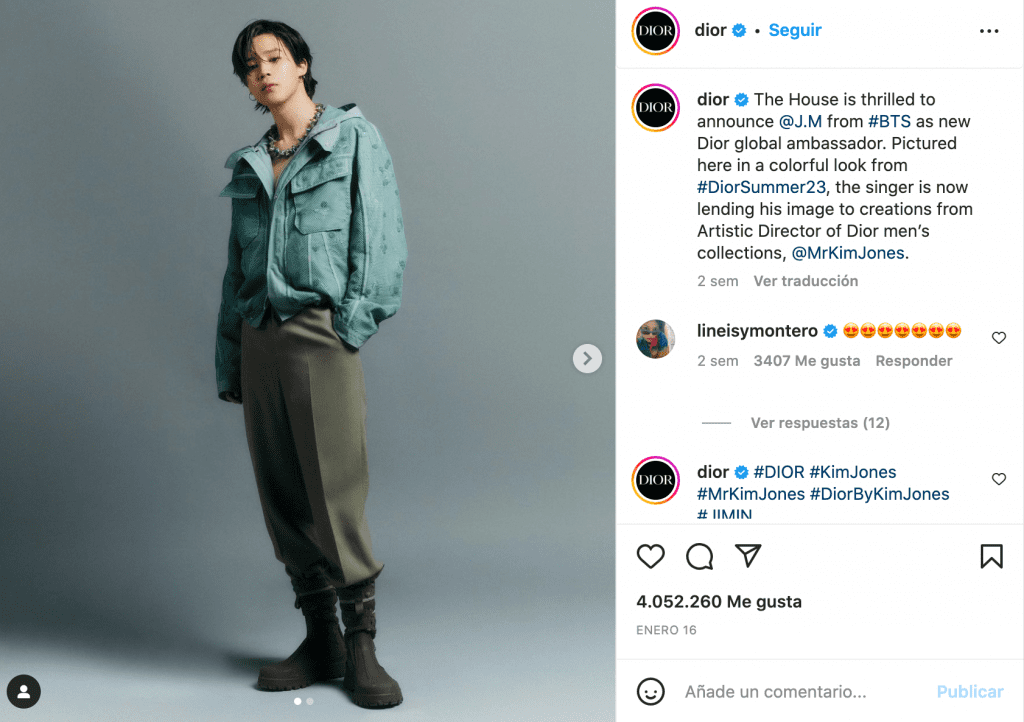 Then we can check the brand's financial status: Investing, one of the top three global financial websites in the world, shows that Dior's stocks hit an all-time high after Jimin was named as their new brand ambassador. The brand, listed on the stock market since 1992, saw its stock price rise to €775.50 EUR on the day of the announcement (Jan 16), and reach €789.00 EUR by Jan 18, marking its highest record in 31 years.
As Dior expands its reach in South Korea, the brand is taking advantage of the country's high spending on personal luxury goods. At $325 per person per year, South Korea has the highest spending on fashion-luxury items, according to Reuters and Morgan Stanley, making smart alliances is not only about entering the country's market but also sharing its reach. And that leads us to the final point: ambassadors.
Dior has maintained its presence as a luxury fashion house for decades, so, why do they need new ambassadors?
Precisely to get new audiences. KPop has been rising and has a global reach, so it's not only about getting the Asian market to buy their goods, it is getting popularity among the Gen-Z and Millennials, who are known for being superfans with the Kpop universe. The kind of energy and love that drives people to meet their idol in a venue, either in Seoul, New York or Paris, is what brands are looking for to be involved. 
According to fashion executives, KPop partnerships (from singers to actors and so called idols) are seen as good investments in the industry because of their influence among their audience, who often see buying the products stars promote or represent as a way of showing their love. Of course, this is the place every brand wants to be in. 
Luxury houses like Chanel, Prada, Gucci, Valentino, Givenchy, Loewe, Alexander McQueen and many others have signed deals with Kpop idols in recent years. Louis Vuitton, for example, announced all 7 members of BTS as their global ambassadors and their stock value achieved its all-time highest point as well, surpassing $600k stock price (+58k compared to previous month).
So, we are not talking about small numbers, closing the right deal with the correct ambassador could make a difference in terms of popularity and rentability for a brand (even for those in the big leagues). The ultimate goal of the brands is to increase their credibility and appear more authentic to reach the new generations, and that's by showing they are connected with people's favourite idols.
We need to remember that representatives and influencers transfer their "value" to the brand's communication, and this happens on all kinds of levels. It's not only about a luxury bag or scarf anymore, but it is also the brand that Park Jimin uses and fans want to be closer to him and support his actions at the same time, and that is thus becoming a fan of the brand as well.